Spartan's Potato Salad
By Austin
Summer time is my favorite time of the year. I enjoy exercising outdoors, basking in the sun while reading or just relaxing, gardening, and summer picnics. When I was younger one of my favorite pastimes of the season was absolutely gorging myself at family picnics. Armed with more knowledge, these days I try to abstain from most traditional picnic fare. However Sofia and I find it fun to craft more healthful and macro-nutrient friendly versions of classic recipes to meet the needs of those who are trying to lead the fitness lifestyle or just be healthy (see previous example here). This weekend we tried our hand at "Spartan's Potato Salad" . The namesake is derived from the fact that we used Greek yogurt instead of mayo :). Plus with the macros this dish provides, it is most def fit for a spartan warrior.
As you can see below your typical potato salad pack packs ~360 kcals per serving, nearly half of which come from fat. There is a decent amount of carbohydrate and 3.2 g of fiber, which is not bad. 7 g of protein is somewhat paltry, but not awful for a side dish. However we think we can do better!
We started out with super fresh ingredients including potatoes straight from the garden and onions from the farmer's market. Instead of using mayo as a base, we used organic yogurt (from pasture raised cows) in order to cut down on calories and increase protein. Here are the details.
Ingredients
5 medium red potatoes (ours were in the ballpark of 200-225g each)
5 large celery stalks
3-4 large green onions
2-24 oz containers of plain Greek yogurt
1/4-1/2 cup mustard
1/2 TBSP sea salt
1 tsp chili powder
1 tsp black pepper
1/2 tsp paprika
Recipe makes 6-4 cup servings
Cube your potatoes to the size of your liking.
Boil the potatoes in a large pot of water.
Drain off hot water using colander and rinse potatoes in cool water.
Chill potatoes in the refrigerator for about an hour.
Dice the celery and onions while the potatoes are chilling (literally and figuratively ;))
Once potatoes have chilled combine all ingredients in a large mixing bowl and mix as thoroughly as you like.
* Keep in mind you can alter the seasonings to suit your own taste preferences. We just kinda free styled it to be honest.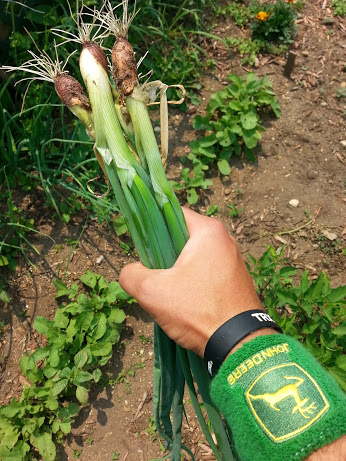 We usually offer ideas to modify our respective recipe to make it "paleo", vegan, low carb, etc. but that isn't really possible with this dish. Nonetheless we are pretty pleased with calorie and macronutrient breakdown for Spartan's potato salad. Each serving has roughly half the calories of traditional potato salad (mainly due to a reduction in fat), provides more protein, and 50% more fiber! Makes 6 servings.
Nutrition info (per serving):
169 Calories: 34 g carbohydrate, 4.8 g fiber, 0.5 g fat, 9 g protein. Enjoy!